As a founding member of Urology Associates of Central California, Dr. Behniwal is a skilled urological physician with over twenty-five years experience.
He specializes in urinary incontinence, stone disease and sexual medicine and amongst a plethora of distinguished honors, is board certified by the American Board of Urology.
He is an advocate for the advancement of patient care and therefore continues to have an active involvement in medical research and progression.
Dr Behniwal welcomes all ages, male and female to his urologic practice. His primary hospital affiliations include Community Medical Centers, Saint Agnes, Madera Community Hospital, and Tulare District Hospital.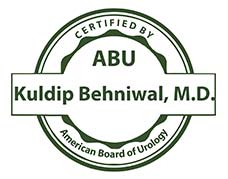 Schooled in India, Dr. Behniwal completed his pre-med education and Doctorate degrees from Punjab University. After completing his internship and one year of General Surgery, he moved to Montreal, Canada where he was involved in a rotating internship program at Montreal General Hospital at McGill University. While in Montreal he also completed a one-year surgical externship at Jewish General Hospital, followed by a two-year General Surgery externship at Sisters of Charity Hospital in Buffalo, New York. He remained in Buffalo while completing his Urology residency at Millard Fillmore Hospital, Buffalo Children's Hospital and Roswell Park Memorial Institute. Now residing in Fresno, he has been an invaluable addition to our elite team of physicians at UACC.
An active member in the Urological field, Dr. Behniwal is affiliated with numerous professional associations such as American Medical Association, American Urological Association, California Medical Association, California Urological Association, American Association of Clinical Urologists, California Association of Clinical Urologists and the Fresno-Madera Medical Society.
When he is not focused on medicine, Dr. Behniwal enjoys a daily exercise walk, and spending time with his wife Suki and kids.