Overview
Benign prostatic hyperplasia or BPH is a very common urological condition among aging men caused by the non-cancerous enlargement of the prostate gland. Due to the anatomical location of the prostate surrounding the urethra and just below the bladder, men often have associated urinary symptoms such as the need to frequently empty the bladder, especially at night (nocturia). Other symptoms may include difficulty in starting the urine flow or dribbling after urination. The force of urinary stream may also decrease. For patients that are symptomatic to the point of being bothersome, medical therapy using drugs such as Flomax (Tamsulosin), Rapaflo, Avodart, Proscar (Finasteride), or Jalyn (Avodart and Flomax) may be prescribed. If medical therapy fails, then the next step may be surgery.
Before TURP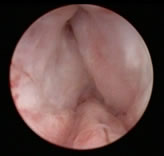 After TURP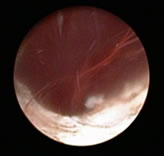 Transurethral Resection of the Prostate (TURP)
Transurethral Resection of the Prostate (TURP) is the most common surgery for BPH, and is considered the "gold standard" in effectively treating symptoms associated with BPH. TURP can be done using an electric current, or with laser light. TURP is often an outpatient surgery that can be done in the hospital or in our ambulatory surgery center. Often your general health or associated risk factors will dictate where the surgery can be done.
After the patient receives anesthesia, the surgeon inserts an instrument called a resectoscope through the tip of the penis into the urethra. The resectoscope contains a light, valves for controlling irrigation fluid, and an electrical loop that cuts prostate tissue and seals blood vessels. The removed prostate tissue is then carried by the irrigating fluid into the bladder and flushed out. This tissue is sent to pathology to make sure it is benign or does not contain prostate cancer. At the end of the surgery, a catheter is placed in the bladder through the penis. The bladder is continuously irrigated with fluid through the catheter in order to monitor bleeding and prevent blood from clotting which could obstruct the catheter. Patients usually go home with a catheter in place for about a week to give the prostate time to heal. See before and after images of the prostate below.