Dr. J. Paul Grewall joins the Urology Associates of Central California with a strong educational background in urology and an unyielding commitment to the advancement of urological treatment.
Amongst his vast training and knowledge in the urological field, Dr. Grewall specializes in endourology, laparoscopy and female urology.
Dr Grewall welcomes male and female patients above the age of 18 to his urology practice. His primary hospital affiliations include Community Medical Centers, Saint Agnes and Tulare District Hospital.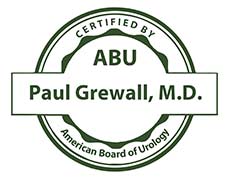 With both a Bachelor of Arts degree in Molecular Biology and a Bachelor of Science in Plant Genetics from the University of California, Berkeley, Dr. Grewall received his Master of Science in Molecular Biology from San Jose State University before moving to Richmond, Virginia to complete his Post-Baccalaureate Premedical Certificate for Anatomy. Dr. Grewall's sound education and commitment to the advancement of urological breakthroughs led him to the New York Medical College in Valhalla, New York, where he received his Doctorate of Medicine. After spending the first years of his residency at New York Medical College in Valhalla, he was promoted to the prestigious position of Urology Chief Resident.
A distinguished member of the American Urological Association, Dr. Grewall has played an integral role in the Urological field through his presentations on androgen-responsive prostate cancer cells, laparoscopic radical cystectomy and endourology.