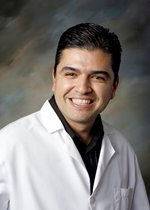 Peter Garcia, R.N., M.S.N., F.N.P., D.N.P. is one of our most experienced nurse practitioners specializing in Urology.
He first started with Urology Associates of Central California in May of 2002. Peter has a strong educational background in nursing when he received his Bachelor of Science as a Registered Nurse at California State University, Fresno. He later went on to receive his Master of Nursing (MSN) at California State University, Fresno with an emphasis of Family Nurse Practitioner (FNP).
Peter's professional experience began back in 1997 where he was Clinical Manager of the Multi-Specialty Clinic at University Medical Center. He later went on to work as a Nurse Practitioner at Madera Community Hospital and Community Medical Providers.
For the past two years Peter has been assisting our daVinci robotic surgeon Yuk-Yuen Leung, M.D. in the operating room at Community Medical Regional Center, Fresno as a first assist for all of his da Vinci Robotic Laparoscopic Radical Prostatectomy surgeries.