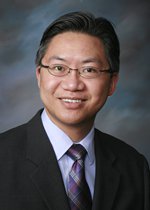 Aside from being a quality general urologist, Dr Leung joined Urology Associates several years ago to bring his micro surgery skills to Central California. Dr Leung is the leading daVinci robotic surgeon in Central California.
We are pleased to have Dr.Leung join Urology Associates of Central California in 2005. Dr. Leung brings his micro surgery skills to Central California. Dr. Leung specializes in urology and minimally invasive surgery for urologic malignancies such as the prostate, bladder and kidney. Dr. Leung provides advanced health care services in robotic-assisted prostate surgery and is an expert in the use of the da Vinci robotic surgical system, and has been using this technique since 2004.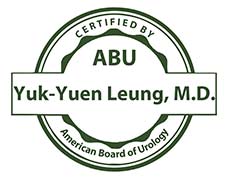 With a unique background in advanced engineering technology and biomedical research, Dr. Leung has received his Urologic surgical training at University of Rochester Medical Center. Dedicated to minimally invasive laparoscopic and Robotic surgery not only to demonstrate beneficial clinical options to most patients for numerous reasons, but it provides significant benefits to patients, their families and communities. For this reason da Vinci surgery and expanding awareness surrounding it, has become an integral component of his practice. Dr. Leung's goal is to raise public awareness, educate and offer da Vinci robotic-assisted surgery to communities that currently do not provide this technology.
Over 80 percent of men with prostate cancer nation-wide are being treated with robotic surgery and it is Dr. Leung's goal to provide patients in our community the same opportunity. The da Vinci technology has allowed dramatic reducing incidence of open surgery and patients have resulted in excellent clinical outcomes including: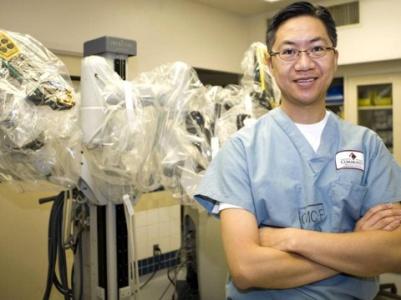 Earlier discharge from the hospital – average length of stay is one-day

Less pain, blood loss and scarring

Return to normal routines quicker

Fewer infections and other post-surgery complications
Central Valley 's highest volume robotic surgeon successfully performing over 900 robotic cases from Prostatectomies to Partial Nephrectomies and has conducted seminars for other urologists to learn this advanced technique of robotic surgery. Dr. Leung was featured on the NBC Community Regional Medical Center program Med Watch in 2006.
Dr Leung's urology practice is open to male and female patients, with a limited number of pediatric patients also being seen. His primary hospital affiliations include Community Medical Centers and Saint Agnes Medical Center.
Dr. Leung is still actively involved with medical research and is a Principal Investigator/Sub-Investigator in several on-going medical research projects. He teaches at the resident and medical student levels and has a faculty appointment with the University of California San Francisco – Fresno School of Medicine and is Board certified by the American Board of Urology.
A graduate from the University of Texas at Austin in electrical engineering and then completing his Master's Degree in Biomedical Engineering Dr Leung went on to Johns Hopkins University and The State University of New York for his medical education. While Johns Hopkins University, he was involved in progressive medical research using advanced engineering technologies. He built machines and computer systems to study biological processes, and in an effort to combine and apply his engineering and biomedical research background, he attended the State University of New York and graduated with a doctoral degree in Medicine with "Distinction in Research".
While his focus has been his medical career, Dr. Leung in his spare time enjoys time with his family and spending time outdoors.